Cut to length line ZCL series
Cut to length line is mainly used for jobs like uncoiling, leveling, measuring the length, cutting and stacking of kinds of materials, such as cold rolled or hot rolled plate, electrolytic galvanized plate, hot dip galvanized plate, color-coated plate, stainless steel plate, aluminum plate, cooper plate etc.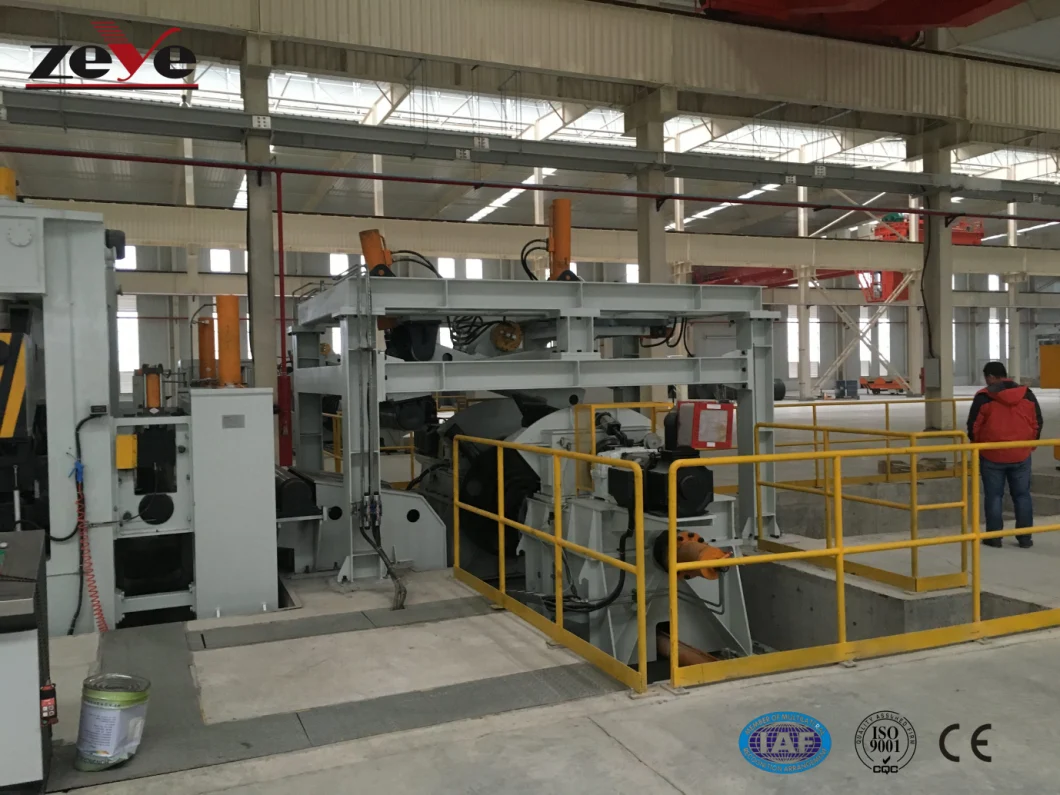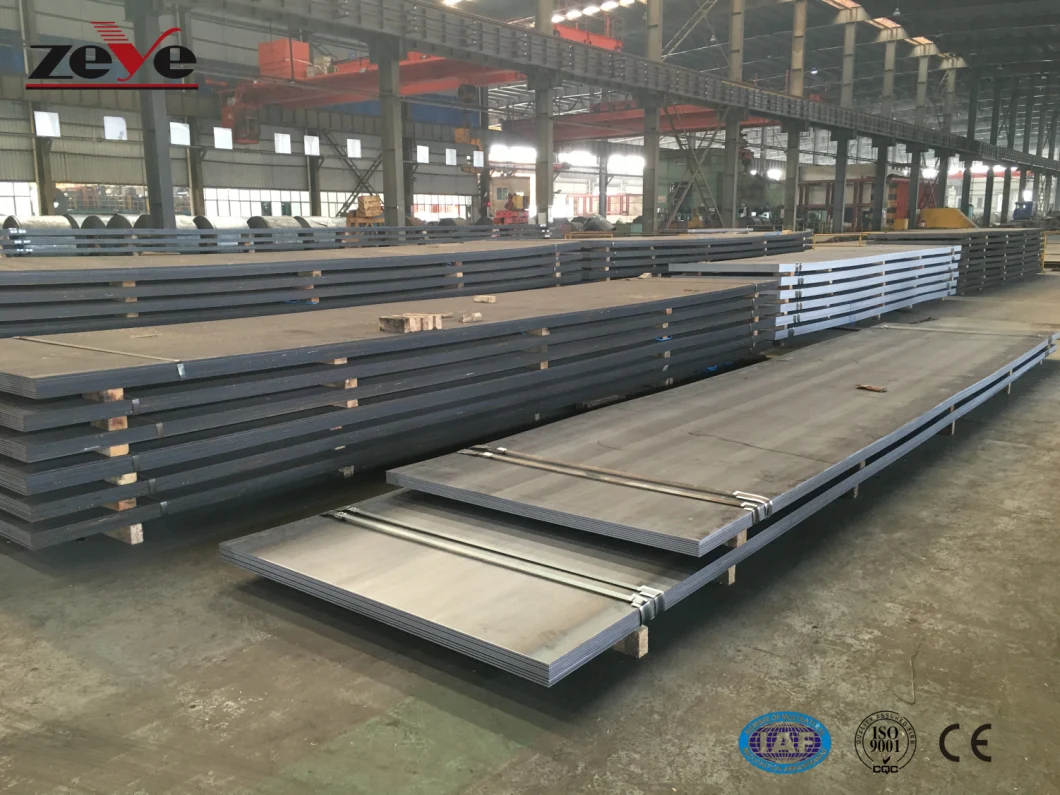 Main Units
| | | |
| --- | --- | --- |
| 1 | Entry coil car | 1 set |
| 2 | Uncoiler | 1 set |
| 3 | Feeding device | 1 set |
| 4 | Pre- leveler | 2 set |
| 5 | Looper | 1 set |
| 6 | Side guide | 2 sets |
| 7 | Precision Leveler | 1 set |
| 8 | Shear Machine | 1 set |
| 9 | Conveyor | 1 set |
| 10 | Stacker | 1 set |
Layout of Cut to Length Line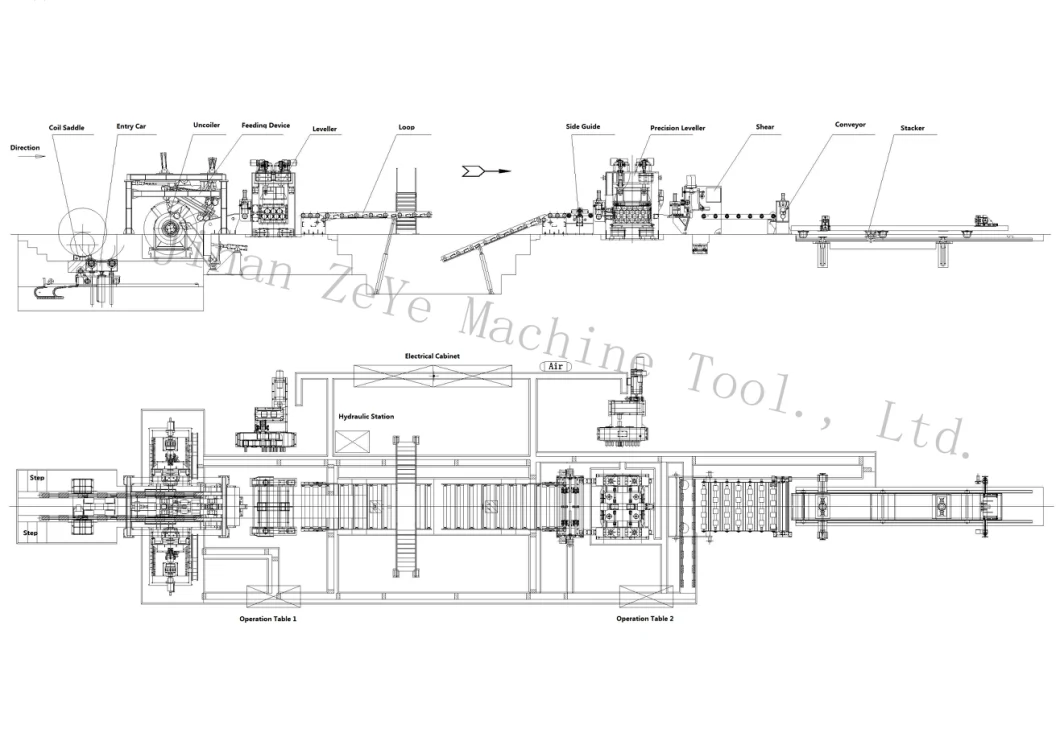 Main Technical Parameters
Model

ZCL-6

ZCL-8

ZCL-12

ZCL-16

ZCL-20/25

Material thickness

1.5-6.0mm

2-8 mm

3-12 mm

4-16 mm

6-20/25 mm

Material width

800-2000 mm

800-2000 mm

800-2000 mm

800-2200 mm

800-2500 mm

Finished length

1000-6000 mm

1000-8000 mm

100-12000 mm

2000-14000 mm

2000-14000 mm

Length accuracy

±1.0 mm

±1.0 mm

±1.0 mm

±1.0 mm

±1.0 mm

Diagonal accuracy

±1.0 mm

±1.0 mm

±1.5 mm

±1.5 mm

±1.5 mm

Leveling accuracy

<1 mm/m

2

<1 mm/m

2

<1.5 mm/m

2

<1.5 mm/m

2

<1.5 mm/m

2

Line speed

50 m/min

40 m/min

40 m/min

40 m/min

30 m/min

Coil weight

20,30 t

20,30 t

20,35 t

20,35 t

20,35 t
Our advantages
1.Reasonable structure, convenient to adjust, high precision and high efficiency.
2.Automaticlly detect the material parmeter, one key to load coil, automaticlly centering adjustment.
3.The manufacturing process is in strict accordance with the mechanical standards,
tracking and controlling the manufacture of each part
4.Siemens, Schneider etc.imported high end brand electrical components,as well as,
Japan MAZAK, Spain CORREA CNC etc.the world most advanced high precision processing equipment to ensure to produce high precision shear line with stable qality.
5.We have one professional technical team to develop and extend the high quality and high efficiency automatic plate processing equipment for users. Also could guarantee the timely after-sales service.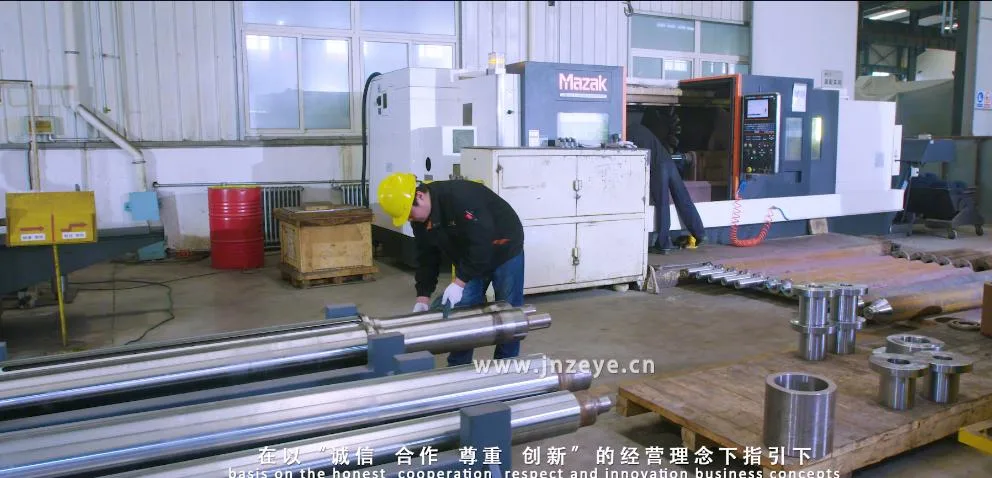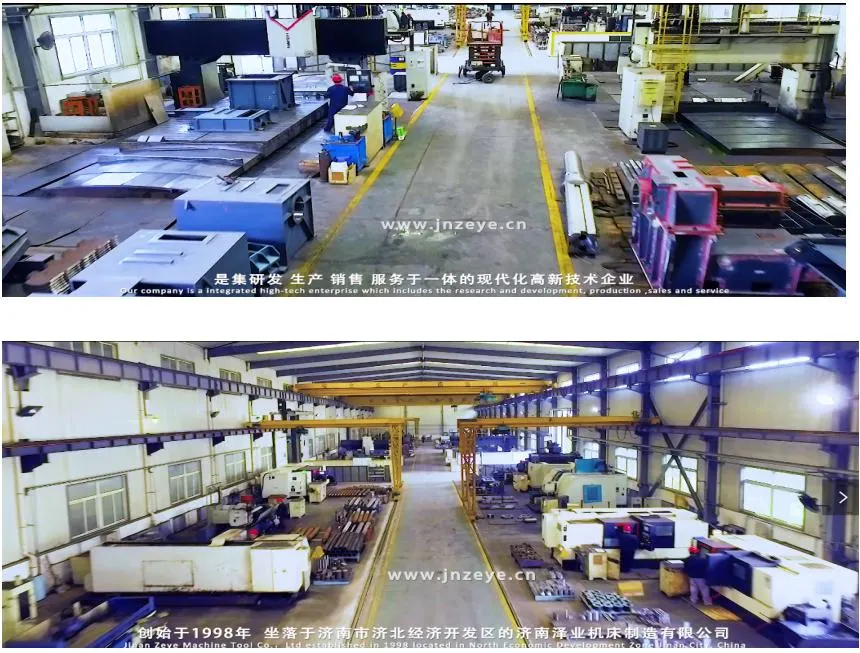 Our Certifictes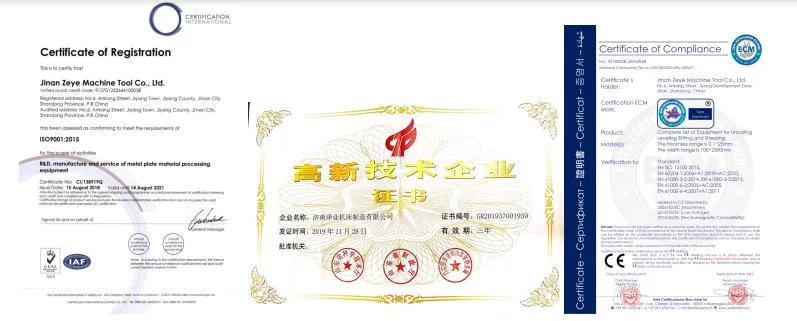 ISO9001:2015 certificate High New Technical Enterprise CE certificate

Part of our customers
Due to enjoy the high reputation of our shearing products, we have supply our cutting lines to POSCO, BAOSTELL, MA STEEL,ANSTEEL, DELONG STEE, SHAN STEEL,SINOTRUCK, CRRC, CHERY, CHANGFENG MOTOR, HRA ,OBON,SIEMENS, MCC, BOSCH, SANDEN etc. famous companies.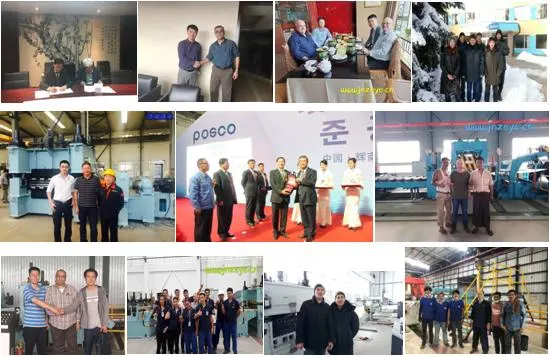 Company introduction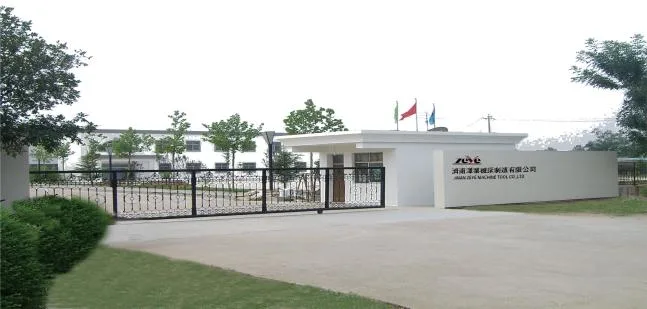 Shandong Zetian CNC Machine Tool Co., Ltd (short for Zetian )and Jinan ZeYe Machine Tool Co., Ltd (short for ZeYe) are brother enterprises. Zetian is for import and export business, ZeYe is one professional manufactory
, was founded in 1997 in Jinan city, Shandong Province, China. ZeYe is mainly engaged in developing ,manufacturing and sales of Cut to Length Line, Slitting Line, Rotary Shear, Moving Shear, Slitting and Cut to Length Combined Line, Leveling Machine. Our products are widely used in plate processing, household appliance, automobiles, pipe mill, mechanical, hardware etc. industries. It could be application for processing cold and hot rolled steel, carbon steel, galvanized steel, silicon steel, tinplate, stainless steel, pre-painted steel, aluminum, copper and other metals.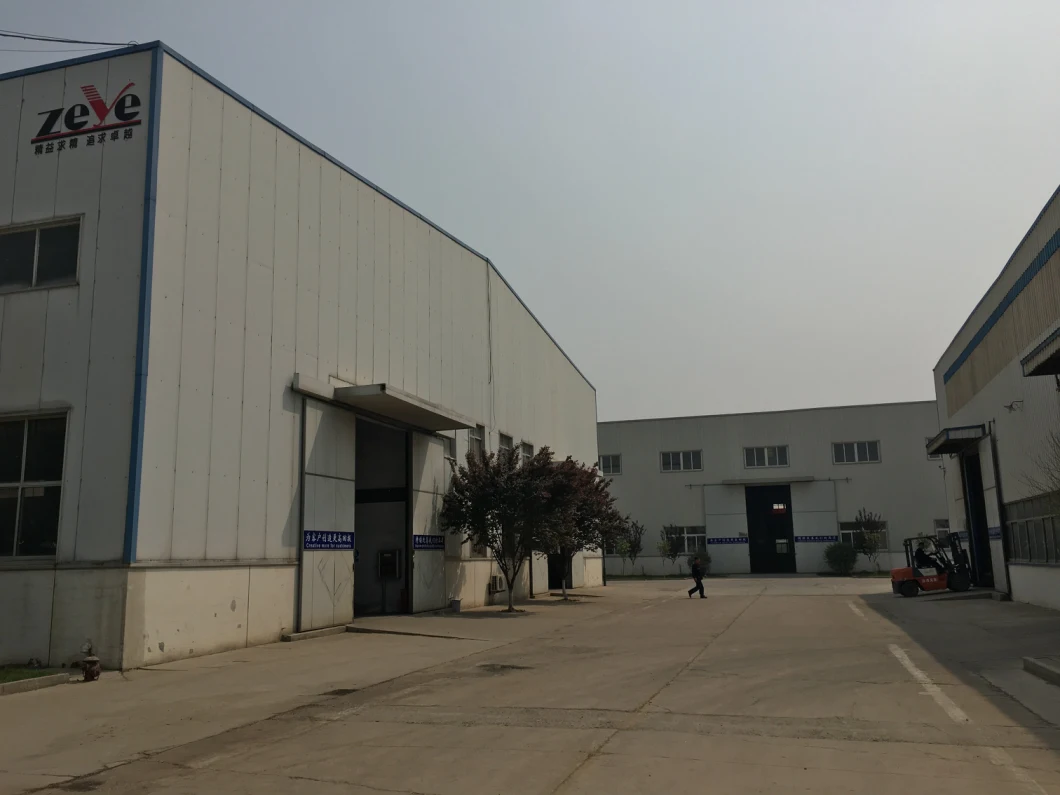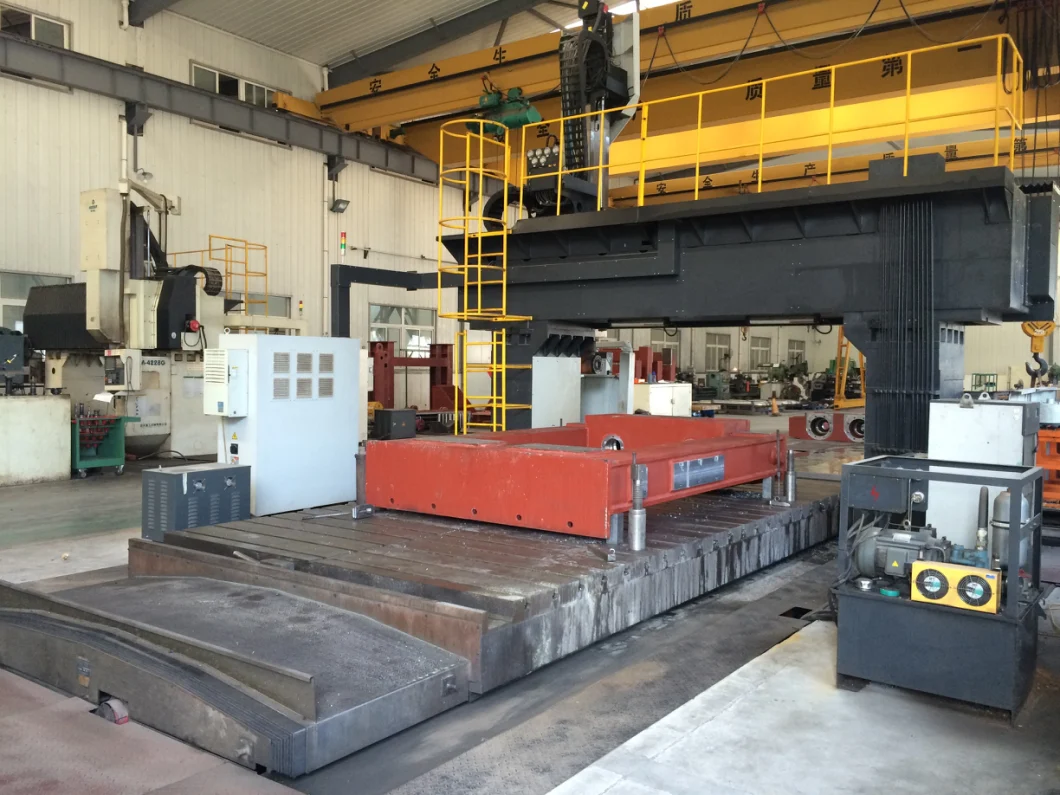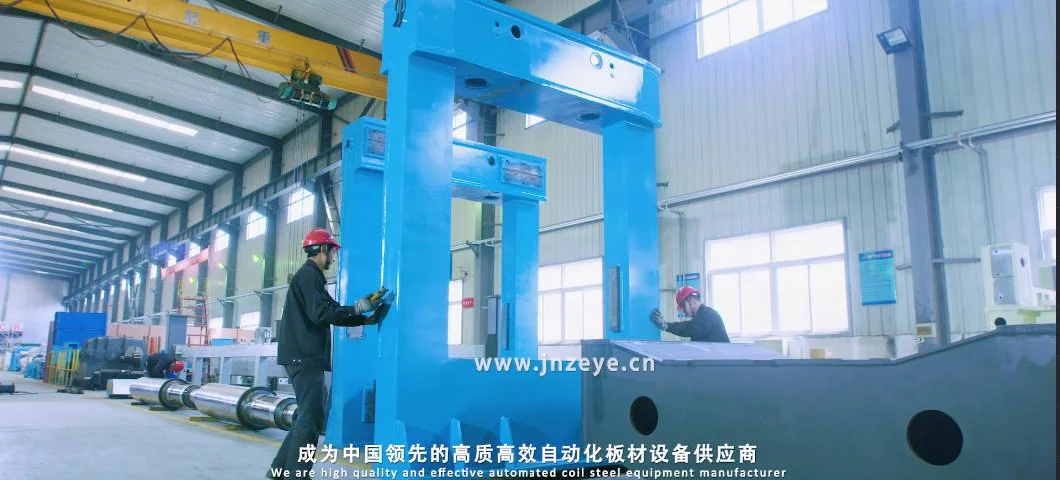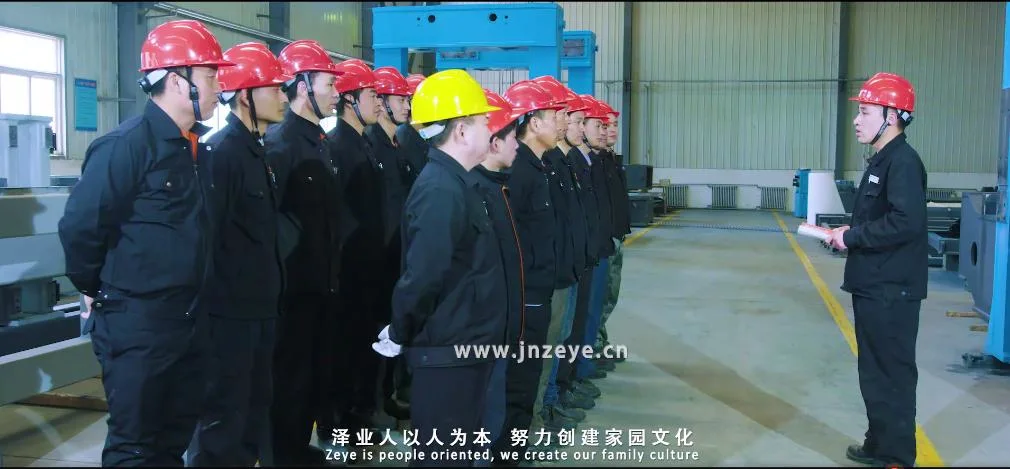 Welcome to visit our factory.
FAQ
Q: Could you produce the shear line as per our specific requirements?
A: Yes, we are a professional manufacturer specialized in automatic shearing line
for 23 years, we have a strong design & technical team, we can design and manufacture as your requirements.
Q: How to get an accurate quotation ?
A: Please provide us the detailed requirements, such as coil weight, material, width, shearing length, processing precision etc.
Q: What's the shipping cost from China to our country ?
A: We can ship equipment to your port by sea, shipping cost depends on shipping agend and season, FOB, C&F as well as CIF are all acceptable.
Q: What's the MOQ, warranty... ...
A: MOQ: 1 set.
Warranty: 12 months when the equipment run normally .
We offer online service 24 hours per day, Skype, Wechat, Email etc, you could contact us at your available time.